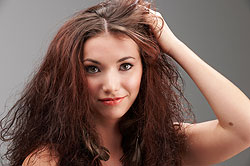 Although male hair loss is well publicised, thinning hair in women is more common than you think. Half of women in their 60s have experienced hair thinning or female pattern baldness, which, just like male pattern baldness, is down to genetics.
That said, hair loss in women can happen at any age, for a multitude of reasons. It could be hormonal or as a result of a medical treatment or condition. Other causes could be extreme stress or it could be inherited. Women also experience hair loss after undergoing a course of chemotherapy. It is estimated that as many as 60 per cent of women will notice some form of hair loss in their lifetime.
If your confidence has been affected by thinning hair, female hair loss treatment is available at our London clinic and you can discuss the various options available to you with one of our experienced, leading trichologists.
Female Hair Loss Treatment London – Click here to book a free consultation at our central London clinic.
About Female Hair Loss
A glossy, full head of hair is viewed as a symbol of femininity. Whether it is long or short, your hair it is something that is central to your image and reflects your own personal style.
As a result, losing your hair can feel devastating.
While you can expect to shed up to 100 strands of hair a day (don't worry about the amount that collects in your hairbrush), if you notice your hair thinning all over or find yourself losing clumps of hair, you may want to consider consulting a trichologist for a diagnosis and solution.  Your hair loss could be down to a number of reasons: stress, lifestyle, hormones, or even the medication you are taking. But the good news is that once the cause is identified, in most cases hair will grow back.
While losing your hair may trigger feelings of vulnerability, insecurity and even depression, it may be a small comfort to know that you are not alone. Chat show host Oprah Winfrey, singer Fergie from the Black Eyed Peas and actress Jennifer Aniston are just some of the many famous women who have spoken publicly about experiencing hair loss.
We offer a range of female hair loss treatments at the London Centre of Trichology, from herbal based remedies (which you can take at home), to weaves (which is an immediate solution for a full head of hair) or the option of surgical treatments, if required.
As experts in our field, we know how distressing hair loss can be and our friendly trichologists can help put you at ease. To make life easier for you, our initial consultation is free of charge and we will be able to diagnose the cause of your thinning hair and talk through the solutions with you.
About The London Centre of Trichology
Established 60 years ago, we are one of the leaders in the field of trichology and use some of the most advanced solutions available.  We have helped thousands of women – just like you – from London and further afield.
We have a handy location in Blandford Street, Marylebone, and as we are right in the heart of central London (in W1), we are easy to get to. The nearest tube stations are Baker Street, Regent's Park, Marble Arch and Bond Street.
Want to find a solution to your hair loss? Telephone 0207 79351935 to book your free appraisal today.
The London Centre of Trichology – Click on the link to arrange your initial appointment today with one of our resident trichologists.