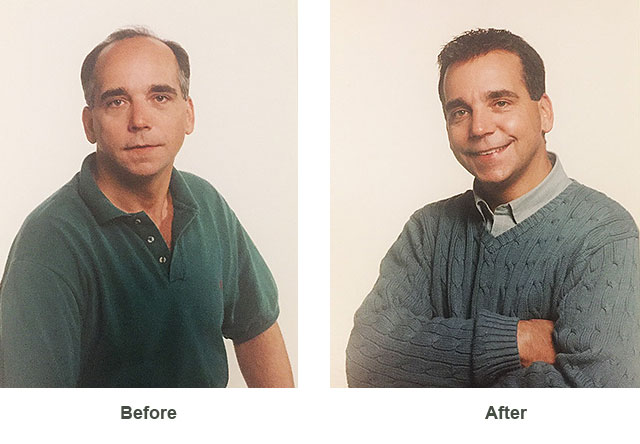 Modern medical advances mean that hair loss among men and women is far less of a problem than it used to be. There are plenty of different options available, even if you prefer to avoid surgical procedures such as transplants.
The London Centre of Trichology can offer non-surgical hair systems as one of its wide range of solutions. Here we look at how they work, how effective they are and the circumstances where they could prove particularly useful.
How They Work
The terms 'hair system' and 'hair replacement system' are generally used instead of words like toupee, hairpiece and hair weave; these have a bad reputation as they can draw attention to your hair loss. This was particularly true in days gone by. Modern advances mean that now it is far less easy to spot if someone is wearing one.
Hair replacement systems add either human or synthetic hair to a thin membrane or base, which is usually individually sculpted to fit your scalp. The base can be attached to your head in a variety of ways, such as adhesives, resins or bonds.
As the base only covers the area affected by the hair loss, it means that it will be much smaller than a wig, which covers the entire scalp.
There's No Surgery Involved
You may be nervous about undergoing surgery which is necessary in other forms of hair loss treatment. Alternatively you may find that you are allergic to some of the products used in certain medical procedures. Neither of these will apply with hair replacement, as there is no surgery or pills involved. This also helps in reducing the cost.
Hair systems are particularly suitable if you are being treated for cancer or thyroid problems and are suffering from temporary hair loss. You may not have any donor hair which can be used in many forms of transplants in the first place, and your existing condition may mean that surgical procedures have to be ruled out on medical grounds anyway. If the loss of your locks is only temporary, for example if you recover from your cancer, then you can always opt for a more permanent course of treatment later.
The American hair replacement systems we use at the London Centre of Trichology have undergone extensive scientific testing, so there will not be any skin-related side effects. It is also a pain-free process.
Matches Your Existing Hair
These days hair replacement systems come in plenty of styles, colours and textures so it should be difficult for anyone to notice the difference between that and your natural hair. Alternatively you can opt for something completely different as part of a whole new look.
What Can You Do with Them?
Having a hair replacement system fitted should not stop you from living a normal, energetic life. So you can take part in any sport or leisure activity, including swimming, secure in the knowledge that it will stay in place. Showering or washing your hair will present no problems either.
How Soon Will They Need Replacing?
Hair replacement systems are not usually a permanent solution; they will need either maintaining or replacing at intervals. The length of time that it lasts will vary depending on a number of factors, such as your lifestyle, the type of system you have chosen, and how it is fixed to your scalp. The type of adhesive bond we use at the London Centre of Trichology does not contain any toxins, and has a comparatively long shelf life.
If you would like to know more about the hair systems we offer, contact us at the London Centre of Trichology. We have decades of experience in advising people about hair loss. Our initial, no-obligation consultation is free.